You often hear library staff talking about robots as part of our ongoing STEM programming. But did you know we also have robots working in the libraries?
Yuma's Main Library is 73,161 square feet, and houses a collection of 159,012 items. From July 2021 – June 2022, approximately 3,016 people visited and checked out 3,316 items every week. You don't have to be a math whiz to know that that's a lot of hands touching a lot of surfaces and materials.
After the coronavirus pandemic caused us to close to the public in March 2020, we began exploring additional ways to provide a safe and sanitary environment for the community. That summer, the Yuma County Library District purchased two Puro Sentry M2-C UV Robots to disinfect and sanitize the Main Library. The robots eliminated 99.9% of pathogens, including the coronavirus, influenza, and the common cold, by emitting broad spectrum ultraviolet light on surrounding surfaces.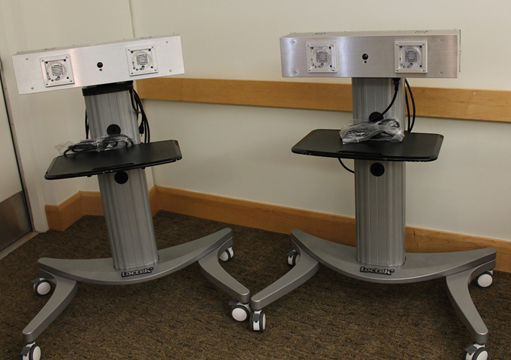 Funding for the robots (which cost $10,000 each) was provided by the Yuma Library Foundation, a 501(c)(3) non-profit foundation. After the initial purchase, the Foundation sought donors to help fund five more of the Ultra Violet Robots for the Foothills, Heritage, San Luis, Somerton, and Wellton library branches, and offered to match up to $5,000 for each of the remaining robots. The most recent donor was AEA Credit Union, who stopped by the Main Library on December 23, 2022, to present a check for $750 to the Foundation.
We are fortunate to have an extraordinary Maintenance staff who takes great care of our buildings and grounds. Thanks to the Library Foundation and the community, they have another tool at their disposal to keep our facilities and collections clean and sanitized.